Check out some of the latest happenings at The Brownstone.
SHABBAT DINNERS
BIRTHRIGHT EXCEL SHABBAT DINNER
Alumni of the Birthright Excel program – an elite fellowship with a 10-week summer in Israel.
POLAND TRIP REUNION SHABBAT DINNER
Reunion Shabbat dinner for participants of our Poland trip last March.
IAC DOR CHADASH SHABBAT DINNER
IAC is the Israeli American Council. 60 young professionals attended.
SHABBATONS
MEOR VISION SHABBATON
Led by Yehoshua Styne. Alumni of the Vision program.
YACHAD SHABBATON
Special needs young adults were present for the Shabbaton together with their "big brothers" or "big sisters". 50 people attended, organized by Adina Lichtman.
PENN HILLEL RETREAT
Shabbat dinner and lunch. 30 UPenn Hillel students attended.
YOUNG LEADERSHIP SHABBATON
A Young Leadership Shabbaton led by Yoni Greenwald. 60 attended.
ISRAELI DIVISION SHABBATONS
There were two Shabbatons, one with 70 young professionals and one with 40 in attendance, from the Brownstone Israeli Division.
MEOR SHABBATON
Organized by Rabbi Jack Cohen for alumni of the Meor program.
BARUCH HILLEL SHABBATON
A new group of 60 students from Baruch College Hillel.
RUSSIAN DIVISION
RUSSIAN DIVISION SHABBAT DINNERS
There were three of them:
1)    Georgian food themed Shabbat dinner. Spoke about the history of Jews in Georgia. Food, spices, and culture. 40 people.
2)    40 young professionals of the Russian division.
3)    Great Gatsby Shabbat dinner with 40 people. Spoke about 1920's Jewish history, Prohibition, and Jewish philosophy.
Two WW2 survivors spoke about their experiences.
EDUCATIONAL AND SOCIAL EVENTS
VIBE FEST
VibeFest is an annual celebration of Israeli innovation and creative energy in New York City hosted by the American Friends of Vibe Israel. Over 60 attended.
PURIM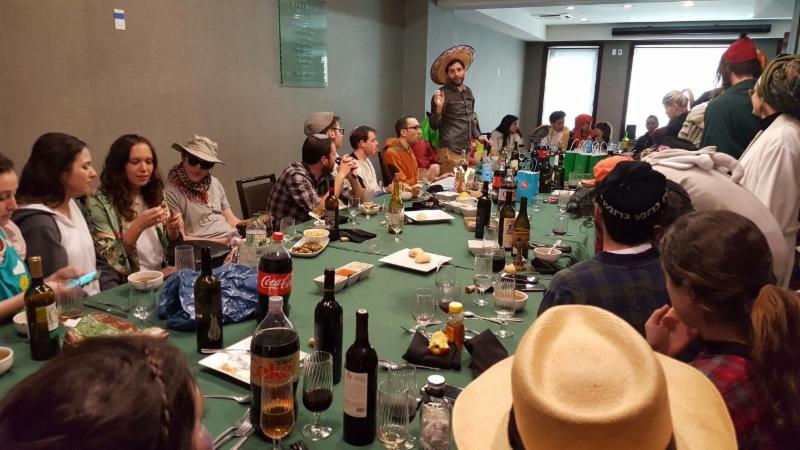 A diverse crowd of 115 students and YP's joined our Purim party and Seudah.
The Brownstone hosted two groups of 30 and 50 Jewish students from Menora-Argentina this year. They each spent a week touring NYC, learning about their heritage, met with prominent Jewish leaders in the New York community, and spent an unforgettable Shabbat in Lawrence, NY, hosted by some of the warmest families in the Jewish community. They left inspired and encouraged to keep learning about Judaism.
SUCATH DAVID ARGENTINA TRIP
Michael Kranzler of Yeshiva Univeristy addressing the students in one of the auditoriums in Yeshiva University.
We hosted a group of 45 college students from Sucath David-Argentina. They toured NYC together, spent an amazing Shabbat weekend in Lawrence, NY, and formed connections with community leaders, business professionals, and locals.
Phil Friedman with the Brownstone group from London.
The JLE group from London, consisting of students with a professional business track, toured NYC, met with prominent business people together with lectures and programming, and spent an amazing Shabbat in Lawrence which is always the highlight of the trip.
ISRAEL ADVOCACY EVENTS
FUEL FOR TRUTH WITH JOE HYAMS OF HONEST REPORTING
Joe Hyams, the CEO of HonestReporting.com, trains Israel supporters the world over in the identification of media bias and effective responses in the digital age. 40 FFT participants and 20 alumni attended.
The Brownstone- Fuel For Truth (FFT) program is a group of young professionals interested in advancing their knowledge of the Israeli- Palenstinian conflict and fighting the media bias against Israel. They meet weekly in The Brownstone.
FUEL FOR TRUTH WITH BASSEM EID
40 FFT members and 20 alumni were present.
FUEL FOR TRUTH WITH GIDI GREENSTEIN
Gidi Greenstein is the founder of Reut Institute. Reut Institute is a strategy group that supplies its services pro bono to Israeli government decision-makers.
RESERVISTS ON DUTY: THE GIDEON PROJECT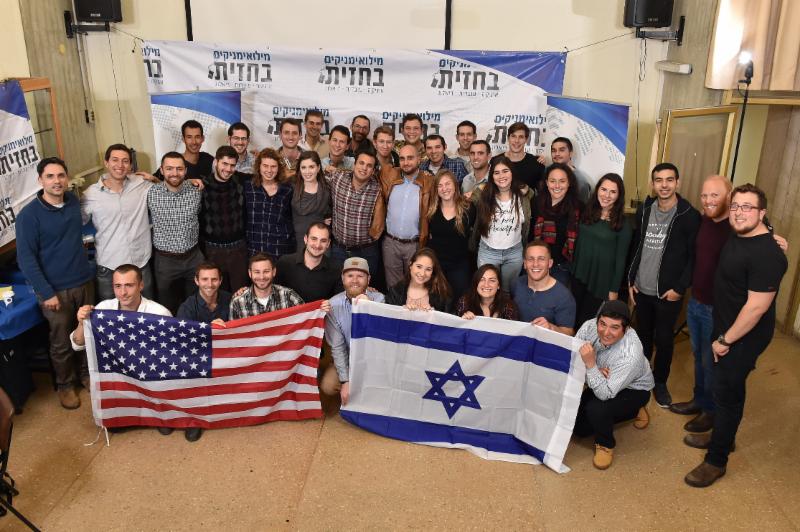 40 soldiers stayed in The Brownstone doing Israel advocacy. The goal of The Gideon Project is to bring the complexity of the Israeli-Palestinian conflict to the public's attention, both in Israel and abroad.
Wishing all a Kosher Pesach and Good Yom Tov,
Rabbi Mordechai Suchard